JC25 Women's Committee's Health Fair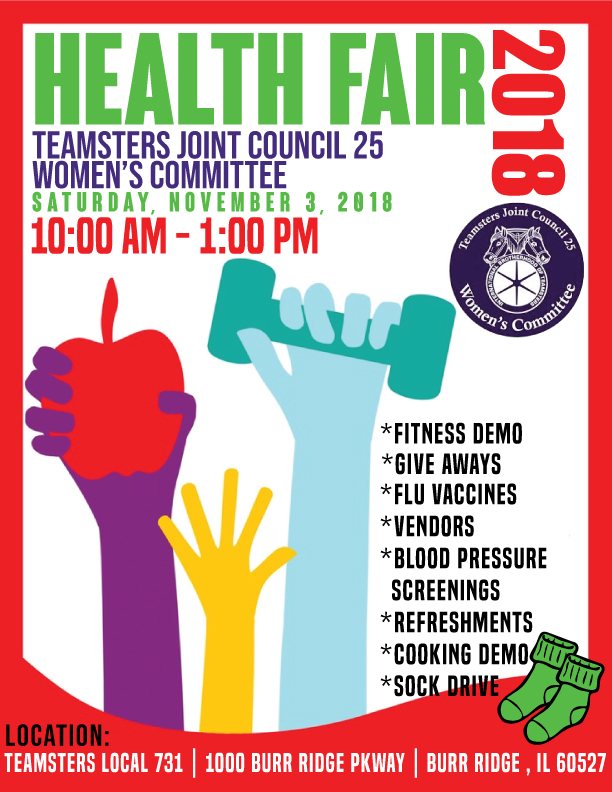 The Teamsters Joint Council 25 Women's Committee is an extremely popular annual event held every fall, drawing dozens of Teamster Members and their families who interact with various health and wellness exhibitors. The event is known for its free flu vaccinations, complimentary screenings, demos and activities, excellent giveaways and more. The event is open to Teamster members and their families.
We are excited this year to provide to our members free flu shoots, blood and glucose screenings, workout demo, healthy cooking demo among other great vendors. The Health fair will be held on Saturday November 3, 2018 at Teamsters local 731 located at 1000 Burr Ridge Parkway, Burr Ridge, Illinois from 10:00 am until 1:00 pm.
As with every year, the Women's Committee uses this opportunity to support a charitable cause. This year we are holding a "SOCK DROP". Socks are the number one piece of clothing asked for and needed at homeless shelters. If you bring a new pair of socks from infant sizes to adult, you will receive an extra raffle ticket to win one of our great raffle prizes.
For more information please contact:
Diahann Goode 773-735-5738
Tracy Reed 773-220-9893